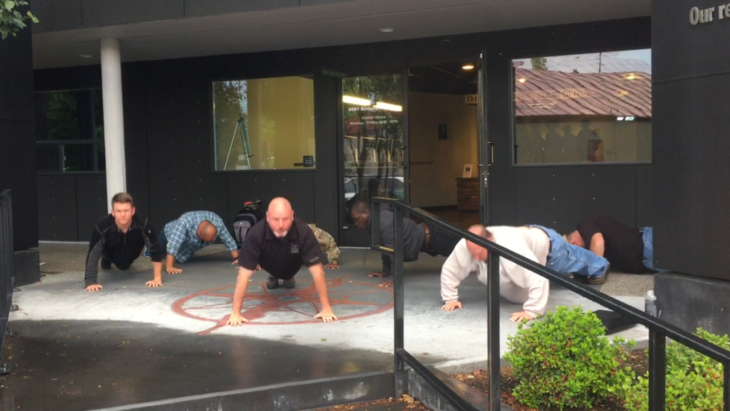 8,030 Pushups to Prevent Suicide
8,030 Pushups to Prevent Suicide
Today I decided to accept the #22PushUps challenge but I am not going to stop at 22-days. I am going to do 8,030 pushups to prevent suicide in the next 365-days. That works out to 22-pushups per day for the next year to kick off the VennFitt portion of this Blog – something I've been meaning to do for far too long. I am not going to do it alone though.
First – the challenge goes out today for everyone who reads this to join me
Second – I will be visiting businesses and organizations around the country over the next year to accept their pledge and collect their first 22-pushups
Third – to hold myself accountable, I am going to post all 8,030 pushups on this site using a count-down today it will be 8,030 tomorrow's post will be 8,008 and so on.
So, please – join me in committing to this cause, make this a VennFitt Goal. 22 pushups per day is easier than you think. If you can't do all 22 start with what you can…. The hashtags I will be using for this campaign are #MakeYourselfAvailable and #CareThatMuch.
#MakeYourselfAvailable
This is the commitment I am asking for from everyone who sees these videos. I am asking everyone to learn how to help people in need and to make themselves available to people to reach out to. DO NOT TAKE THIS FOR GRANTED. In my first video I share my frustration about thinking that people knew I was available to help in dark times – unfortunately far to many people in my life we unaware of how available I was. This link is a good place to start to find information on how to intervene when someone may be contemplating suicide. I'll talk more about this in videos throughout the year and share some personal experiences and lessons I've learned.
#CareThatMuch
I am also asking everyone to take the next step. To go just a little further. Although I want everyone who sees this to commit to doing 8,030 pushups to prevent suicide I know it's unreasonable. So I am simply asking that everyone does as much as they can. Share the videos from others, coordinate "pushup collection events" or just reach out to a person in need.
Finally, if you are contemplating suicide please don't give up. There are people who care about you and want to help you.
Suicide hotlines and crisis support
National Suicide Prevention Lifeline – Suicide prevention telephone hotline funded by the U.S. government. Provides free, 24-hour assistance. 1-800-273-TALK (8255).
National Hopeline Network – Toll-free telephone number offering 24-hour suicide crisis support. 1-800-SUICIDE (784-2433). (National Hopeline Network)
The Trevor Project – Crisis intervention and suicide prevention services for lesbian, gay, bisexual, transgender, and questioning (LGBTQ) youth. Includes a 24/7 hotline: 1-866-488-7386.
SAMHSA's National Helpline – Free, confidential 24/7 helpline information service for substance abuse and mental health treatment referral. 1-800-662-HELP (4357). (SAHMSA)
txt4life – Suicide prevention resource for residents of Minnesota. Text the word "LIFE" to 61222 to be connected to a trained counselor. (txt4life.org)
Crisis Centers in Canada – Locate suicide crisis centers in Canada by province. (Canadian Association for Suicide Prevention)
IASP – Find crisis centers and helplines around the world. (International Association for Suicide Prevention).
International Suicide Hotlines – Find a helpline in different countries around the world. (Suicide.org)
Befrienders Worldwide – International suicide prevention organization connects people to crisis hotlines in their country. (Befrienders Worldwide)
Samaritans UK – 24-hour suicide support for people in the UK and Republic of Ireland (call 116 123). (Samaritans)
Lifeline Australia – 24-hour suicide crisis support service at 13 11 14. (Lifeline Australia)